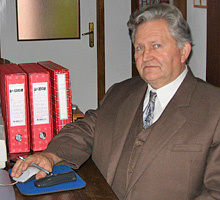 The founder and owner of BISAL
Branislav Camagic, B.Sc. Mech Eng

- founded a workshop for producing Al doors and windows in 2002
- Three years latter the workshop grew into a company which manufactured and maintained machines for producing Al doors
and windows.
- Relying on a 35-year long experience in manufacturing and
developing pneumatic machines in the company PRVA PETOLETKA, Mr Camagic is now devoted to the development of machines for
automated processing.
- Before founding a family company, Mr Camagic was a CEO of
PPT INDUSTRIJSKA PNEUMATIKA in Trstenik (1994–2002).
We have all the necessary metal processing machines
We have trusted partners in technological and metallurgical processing
We rely on knowledge and skills of experienced experts
We plan to build new office and factory space in Trstenik, in the total area of 2.000sqm
We are devoted to development and production of specialised
machines for manufacturers of AL windows and doors components